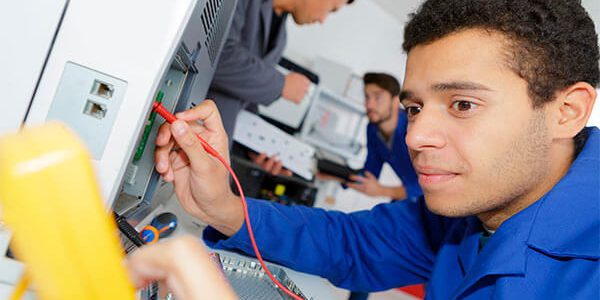 Electrical
Rewiring a house when you have old electrical systems is necessary for keeping you safe. Not to mention, there are added perks of saving some money on monthly bills and avoiding flickering or blinking lights. But if you decide to take on a project of home rewiring, you need a clear vision and a disciplined plan.
Needless to say, electrical work is associated with potential hazards. You also need to understand the basics of electrical safety and the steps for completing the task. To prevent accidents or faulty wiring, it's paramount to have a licensed electrician to do the electrical work. We offer expert electrical rewiring services to keep your household running smoothly.
What Is Rewiring?
Home rewiring involves replacing the electrical wiring of the building when the existing one doesn't work properly or is outdated. In all honesty, this a property is messy, disruptive work even for people who can usually carry out different kinds of repairs. Having some skills and a vague understanding of electrical systems most certainly aren't enough for a whole home rewiring.
It's also important to note that a big part of rewiring has to do with local and federal regulations. Most people don't know the ins and out or aren't even aware of what is at risk. Therefore, it's suggested to impede the timely adoption of technical codes to all running wires.
Overall, it's hard to describe in full what house rewiring is because it's such a complex venture for those who've never done it. Luckily, there are electrical rewiring services that offer great solutions to your problems.
Our team of professionals at Handy Kith will fix your electrical system with the least amount of interference to your house. We are located in New York, and hundreds of happy clients can verify the high quality of our work. Book an appointment online, and you'll be attended by our pros.
What Is Included?
Electrical cables are usually installed beneath the floor or inside the walls. This makes rewiring tricky, especially in the case of a whole house rewire. But a competent professional should minimize the disruptiveness and messiness.
In general, electrical rewiring services approach the task in two seemingly simple stages:
Replacement of cabling, wiring, circuits, and back boxes;
Fitting and installing new outlets and switches.
If you want more detail into what kind of work is involved in house rewiring, here are the activities that are included in our service:
Installing a backbox and a faceplate
Running new electrical cables
Installing communication wiring
Adding or relocating existing switches, socket outlets, and lighting outlets
Add modern technology if required, such as automated appliances and speaker cabling.
Bear in mind that if you're renovating a house, rewiring should be done at the same time as any central heating and plumbing work. So, before all plastering and cosmetic work are finished, it's time to complete the wiring.
Do I Need Home Rewiring?
Now that you know what electrical rewiring involves, you may wonder how to tell if your house electrics need some work. There are several scenarios where you'd need rewiring, such as:
The property was built over 20-30 years ago, and knob and tube wiring systems haven't been replaced.
If you're planning alterations, renovations, and construction to your home as defined by the Building Regulations.
If you are extending your home or converting an attic or garage into a living space. Here, according to the Electrical Safety Code, you might even need a full home rewiring depending on the energy efficiency requirements for your property.
Homes built a long time ago tend to have issues with electrics that require more urgent repairs. If you notice any of the following in older homes, you need help and advice from an electrician as soon as possible:
Arcing, smoldering, burning happening behind your outlets
Fuse keeps blowing on an electrical circuit
Hissing, buzzing or crackling noises
Constantly flickering lights
Burning smell
Benefits of Rewiring
What does rewiring a house brings to you and your family? Even considering a good service can be affordable, it's still an investment. So, you want to make sure that there are functional benefits.
We've picked the top reasons why this project will be money well spent:
It gives you the peace of mind of being safe and secure;
It helps you stay compliant with the current regulations;
You will receive a rewire house electrical certificate to prove it to authorities;
It boosts the house value;
You get to pick all the details that you personally like, such as outlets and switches;
It turns your house into an energy-efficient home;
You can install smart home technology.
How to Conduct a Rewiring Successfully
Whether you are rewiring a house room by room or conducting a whole house rewire, there are certain rules you need to follow. If you keep in mind these recommendations, it will ensure the project running smoothly:
Choose your electrical company wisely and ask them about particular specialists that will be working on your project.
Ask everything in advance, including whether they will be opening walls, extra charges, deadlines, etc.
Be prepared for drilling and pounding of holes into your walls and framing and tell your neighbors that you will have electrical rewiring done.
Don't try to cut costs everywhere you can. This includes investing in quality electrical appliances that will keep your electric system safe in the future.
Before you sign off on your contract being fulfilled and compete, check every single outlet and device. You'll be amazed at what a difference the right electrical work can make and how quickly the process takes from start to finish. Contact Handy Kith specialists right away, and we'll start the work soon!
The Costs
Not all homes are wired the same, which ultimately affects every aspect of rewiring a house.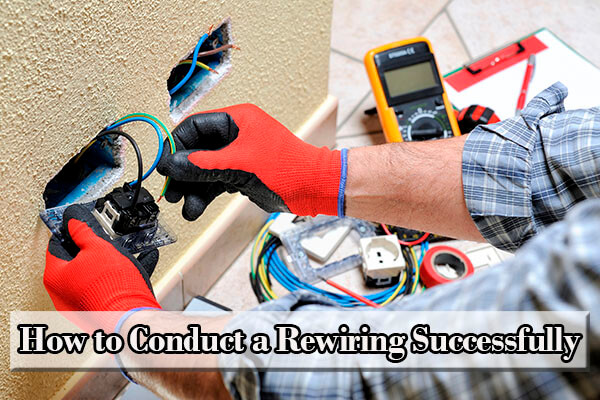 Therefore, it's hard to state the exact numbers on how much to rewire a whole house will cost. The reason is that there are many factors affecting the total price. Here are some of them:
Size and age of the building
Location of the wiring
Materials used (aluminum wiring, copper wire, etc.
The complexity of the project (electrical rewire house cost as you add other enhancements)
Whether alteration to internal walls will be necessary
Individual needs
The lower range of electrical rewiring cost is $1,500-$3,000 for a small house. For moderate-sized houses, the services usually go for $3,500-$8,000. The average cost for large houses is up to $20,000. Of course, these are only estimated numbers for the average cost of electrical rewiring, and depending on the factors described above, prices will vary.
If you need a permit from your local government, it might also contribute to the overall electrical rewiring cost. An in-depth consultation will help you get a better idea of what amount you will be charged with.
Handy Kith: All-Service Electrics in New York
As you can see, the key decision when you're rewiring a house is selecting the right company. Planning any kind of enhancement is challenging, especially a rewiring project. But when you have an experienced team taking over the task, this liability will be taken off of your shoulders.
Many people make the mistake of neglecting the electrical rewiring system. And it makes sense – when you're a homeowner, there are numerous things you need to keep in mind. But if your lights are not working properly or your home is over 25 years old, it might be time to call electrical rewiring services. It's a quick process but a significant one regarding your home's wellbeing.
Don't delay calling us today so that we can help keep you and your family safe. Handy Kith electricians will use their expertise and professionalism to ensure that the job gets done right and in the shortest timeframe possible. You will also receive a rewire house electrical certificate proving that the design, installation, inspection, and testing have been done up to the highest standards.